| | |
| --- | --- |
| Posted on August 9, 2015 at 4:00 PM | |
There's panic in the air, and in the garden. Rest assured, all is not lost.
Like most everyone else in California, I sat up and took notice when, on April 1, 2015, Governor Brown addressed California's ongoing drought and issued stronger recommendations aimed at surviving it.  Reactions to the announcement reminded me of the panic I'd once seen in a crowded shopping mall during an earthquake: some stood still, calmly assessing the event and coolly calculating their options in responding to it; others cowered under clothes racks, not knowing what to do; others simply ran amuck, screaming.
As a 25-year veteran of the California landscaping arena, I assure you there are many things you can do to start saving water in your garden right now.  The easiest and most effective is to spread a 3" layer of mulch throughout your garden.  That alone can reduce your yard's water needs up to 65%.  How?  The mulch acts as a blanket, keeping the sun from scorching the dirt around your plants and wicking up water lying on or just below the surface.  So the water you applied this morning will still be available to your plants for many days to come, rather than disappearing overnight.  Because the water is held in the soil longer by the blanket of mulch, you don't have to water as often.  You'll find you can reduce your watering schedule to just one day a week and your plants won't blink an eye.
What kind of mulch are we talking about?  By mulch I mean bark that has been broken down into sizes ranging from "nuggets" to sawdust.   I really like cedar mulch because it also has insect-repelling properties and smells great.  Your pets will love it because fleas don't.*  Keep in mind that smaller-sized mulch will break down more quickly, which is a good thing because as it decomposes it adds much-needed nutrients to your soil, keeping it that soft, crumbly, dark brown perfection that plants love.  Once its composition is more soil than mulch, simply rake it into the top layer of your planter beds, then refresh with a new 3" layer of mulch.  I stay away from big bark nuggets because they break down so slowly and tend to rot or get fungus-y over time.
Where can you get mulch?  Many cities mulch their own tree-trimming waste and make it available to local residents for free, so I'd start there.  Then check with any local soil companies or nurseries that offer bulk mulch rather than bagged.  You'll save a little and be less likely to underestimate how much material you need to reach that 3" optimum depth throughout your planter beds.  It's also a good idea to visit your local garden center to see the various types of bagged mulch that are available.  You'll get a feel for what type you like best and which one would look best in your garden. Coordinating the color of the mulch with the color of your roof is a great place to start.
So mulch away, mulch away, mulch away all!  Your plants will thank you for it, and your water bill will reflect it.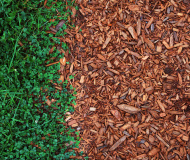 * Caution:  If you have rabbits, do not use pine or cedar mulches as pine and cedar are toxic to rabbits. If you have dogs, do not use cocoa mulch as cocoa is toxic to dogs.

Categories: None